ShiftShape Coconut Yogurt Parfait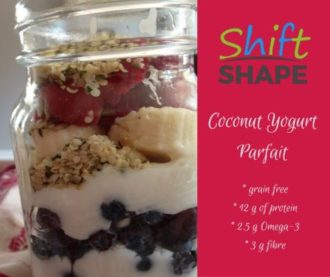 They don't all have to be fancy, but it's so great when they look like they are!
I love this breakfast. It's simple, delicious and packed with nutrients.  It's also ShiftShape cleanse-friendly, which means that it is hypo-allergenic and not full of sugar, soy, hormones, or chemicals. Yes!!!
You can even make little mini versions and serve them in smaller glasses if you are hosting a brunch.
I love YOSO coconut yogurt because:
it is dairy-free
it is organic
it does not contain any artificial flavouring or preservatives
it is cultured so it contains probiotics and prebiotics to help with digestion
it's so delicious
it's a Canadian company (!!!)
You can find Yoso coconut yogurt at most grocery stores, but you can click the link here to find the product at a store near you.  http://www.yoso.ca/directory/
What you need:
1 cup Yoso plain, unsweetened coconut yogurt
1/4 cup blueberries
1/4 cup raspberries
1/4 banana, sliced
3 tbsp hemp hearts
What you do:
In a large glass, layer yogurt, blueberries, yogurt, raspberries and bananas.
Sprinkle hemp hearts on top. They will trickle into glass.
NOTE: Switch this up using any fruits of your choice, or if you want to add granola instead of hemp hearts, click here for my homemade Shift Granola recipe – it's a favourite and it's gluten-free, easy to make and packed with nutrients.
Have a perfect Parfait!
xo