Shift Healthy Homemade Granola – Gluten FREE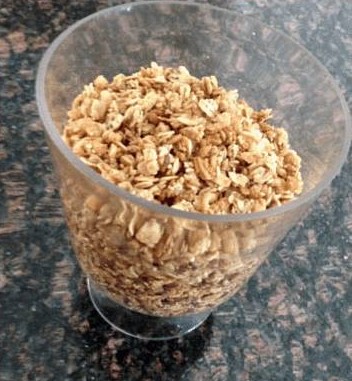 This one is a ShiftShape 10 DAY ONLINE CLEANSE group favourite. I make a batch of this every couple of weeks. It's great for breakfast with your choice of milk (I use almond) , or as an after school snack, with some yogurt and fruit.
I prefer to use wheat-free oats.  It makes this recipe gluten-free.  Did you know that oats themselves do not contain gluten, however, they are a grain that is highly susceptible to cross-contamination? So, if you have celiac disease, or are gluten-free, it may be  OK to have oats, but make sure that they are clearly marked "wheat-free".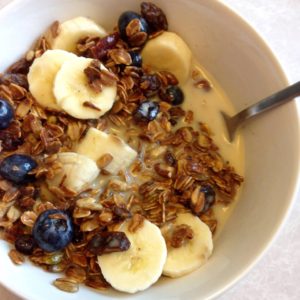 Pre-heat oven to 325
What you need:
6 cups of wheat-free Oats (Lara's Rolled Oats)
¼ cup Sunflower seeds
¼ cup Pumpkin seeds
¼ cup slivered almonds (omit for nut-free option)
1 tsp Cinnamon
1/3 cup raw liquid honey
1/3 cup maple syrup (or less, to taste)
4 tbsp coconut oil
1 tsp vanilla
What you do:
Mix dry ingredients together in a large bowl.
In separate bowl- whisk honey, maple syrup, coconut oil and vanilla.
Pour liquid on top of dry ingredients in larger bowl. Mix with hands.
Pour onto a cookie sheet in a think layer, spread out.
Bake at 325 for a total of 50 minutes
Stir after 20 minutes.
Check frequently as oven temperatures vary.  Stir as necessary.
Notes- if you choose you can add raisins or cranberries after it comes out of the oven
PS – This is what the package for Lara's Wheat-Free rolled outs looks like. I get mine at Organic Garage.