Shifted Morning Glory Muffins (Gluten Free)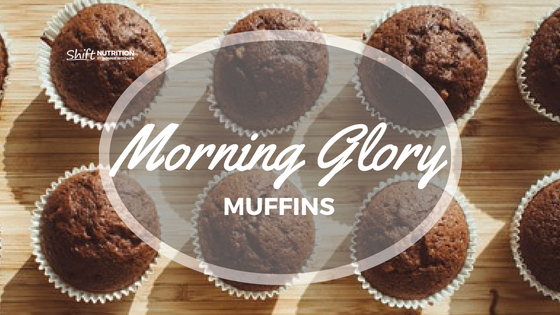 I haven't made these in a few years, but they were part of my batch cooking /back to school prep  today.  These delicious and filling muffins take snacks up a notch. In fact, these are so packed with nutrients that you can even consider having this for breakfast.
Each muffin contains 7 grams of protein, 4 grams of fibre, and only 7 grams of sugar.
Did you know that the average Tim Horton's muffin (i.e. the popular Wild Blueberry flavour) contains 25 grams of sugar per muffin?
So, skip the drive thru and whip up a batch of these instead.
What you need:
2 cups  Almond Flour
2 tsp Baking Soda
2 tsp  cinnamon
1/4 teaspoon, Salt
1/2 cup coconut sugar
2 cups raw, Shredded Carrots
1/2 cup chopped almonds or pecans
1/2 cup, dried currants
1/4 cup, Flaked Unsweetened Coconut
3 large, Egg
1/2 cup Coconut Oil, melted
1/2  cup unsweetened Applesauce
2 tsp  Vanilla extract
1 green Apple, peeled and chopped
What you do:
Pre-heat oven to 350
Mix dry ingredients in a bowl. Add shredded carrots, chopped pecans, dried currants and flaked coconut.
In a separate bowl, blend eggs, coconut oil, applesauce, and vanilla. Stir in chopped apple.
Mix the egg mixture in with the dry mixture and blend together gently, until combined.
Place in muffin tins, making sure to fill each tin 3/4 full (use paper liners or spread thin layer of coconut oil in tins)
Bake 25-30 minutes.
Makes 18 muffins.
NOTE: These freeze well.
*these can be made school friendly by switching out the almond flour for your favourite flour. I suggest using organic wheat flour, or spelt.
Enjoy.
xo