Gluten-free Oat 'n Banana Bread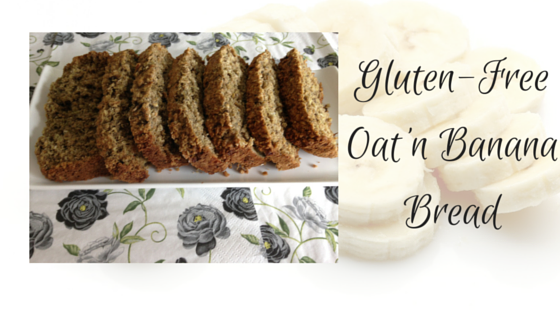 My 16 year old daughter was interested in cleansing this week. One of her favourite homemade snacks is our family's banana bread.
 I wanted to offer a version that was wheat/gluten, dairy and nut free (she dislikes nuts). Here it is – didn't turn out half bad. It's kinda yummy actually. If you are looking for gluten,dairy and nut free snack options, enjoy this one.
Makes one 9″ x 5″ loaf pan
What You Need:
3 cups Lara's Rolled Oats (wheat-free)
2 eggs, beaten
2 tsp baking soda
1/2 tsp sea salt
1/4 cup coconut oil, melted
1/4 cup maple syrup (or melted raw honey)
2 ripe bananas, about 3/4 cup mashed
1 tsp vanilla extract
1 tbsp ground cinnamon
What You Do:
Preheat oven to 350F and grease pan well (use a dab of coconut oil to grease pan)
Combine all of the dry ingredients in a medium sized bowl.  Add the eggs, coconut oil and maple syrup. Mix well until a batter is formed.  Mix in chopped, mushed bananas. Transfer to a greased loaf pan. Flatten top with a spatula.
Bake for 35-45 minutes, until golden brown and when a knife is inserted into the center of the loaf it comes out clean.
Allow to cool. Slice and enjoy!
This version is relatively low in sugar, and is a good source of protein and fibre. It can be enjoyed as a quick breakfast or a yummy afternoon snack.
As far as snacks go, this one is a good source of protein (6g), iron, and fibre (3g).