Eat the Rainbow Cabbage Salad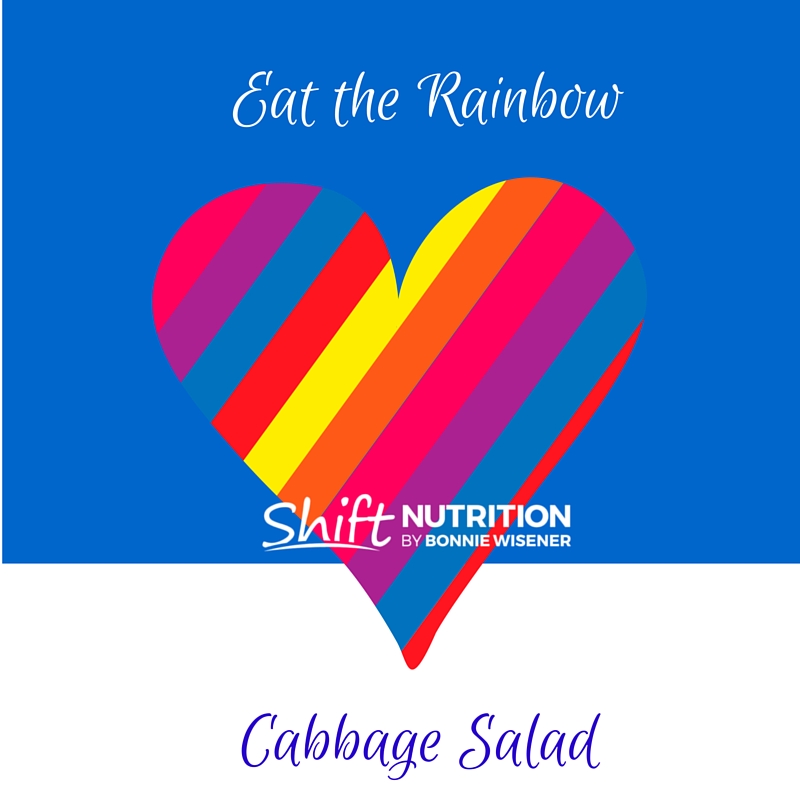 This salad adds colour to any table. The tastes and textures make it a crowd favourite among adults and children alike. The "purple" cabbage is an excellent source of Vitamin C.
What you need:
2 cups purple shredded cabbage
3 carrots, julienned or 1 bag (8 oz) shredded carrots
1/3 cup chopped scallions
1/3 cup almonds*
2 small mandarin oranges, broken into single wedges
1-2 handfuls dried cranberries (sulfite free)
Dressing Ingredients –
4 tbsp coconut sugar
1/2 tsp ground black pepper
1/8 tsp salt
4 tbsp red wine vinegar
1/2 cup olive oil
*roast slivered almonds and let cool before adding to the salad – To roast: Set oven to 350, place almonds on a baking sheet, bake for 10 minutes. Remove from heat, let cool.
What you do:
Place cabbage, carrots, scallions, almonds, mandarin orange wedges and cranberries into a large bowl.   Set aside.
In a smaller bowl, mix the dressing ingredients. Place into a mini prep to blend or put ingredients into a lidded cruet, close cover and shake.
Pour over the salad.  Most flavourful if dressing can be applied at least one hour prior to serving and salad is refrigerated.