Creamy Cashew Granola Bars (Gluten-free)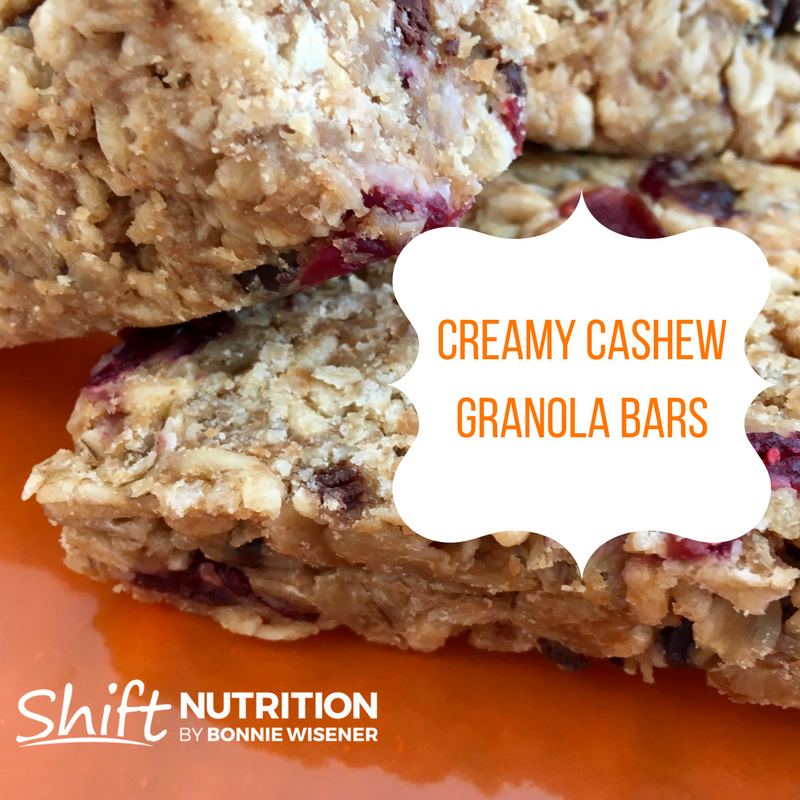 Don't get me wrong, I buy packaged granola bars. The ones I am crushing on for my kids right now, are made in Canada by a company called Made Good. They come in a bunch of varieties, and I do recommend them.
This past weekend, I was playing around in my kitchen, and dreamily staring at an unopened jar of Cashew Butter. This is what happened next. These granola bars are delicious, just sweet enough, and made from whole food ingredients. They are gluten and dairy free, and do not contain processed sugars.  Each bar has 4.4 grams of protein, lots of healthy fats, a bit of fibre (1.9 grams) and 18.4 grams of carbs.
They are a great 'grab 'n go' option for after a workout, or when you are on the run. Way better than grabbing a chocolate bar at the gas station, right?
If you want to make them school friendly, you could try swapping out the cashew butter and replacing it with seed butter instead.
What you need:
1 cup almond butter (MaraNatha)
1/2 cup almond milk (Silk Unsweetened)
2 1/2 cups Bob's Red Mill Rolled Oats
1/2 cup Nature's Path Crispy Rice cereal
1/2 cup dried cranberries (sulphite free)
1/4 cup organic maple syrup
1 tsp vanilla
1/4 cup Rainforest Organics Cacao Nibs *
* cacao nibs are made from the same plant as cocoa, but are considered healthier due to the fact that they are not processed using heat, therefore they retain many of the natural enzymes, which are beneficial to our digestion and our overall health.
What you do:
Preheat oven to 375
Place all ingredients in a large bowl and mix together until well blended.
Line a large glass baking dish with parchment paper.
Use a rubber spatula to spoon mixture into dish. Flatten with back of spatula.
Place in oven and bake for 20 minutes
Remove from oven and let cool for 10-15 minutes.
Once cooled, chill in fridge for 30 minutes
Remove from fridge and slice into 20 bars.
Bars can be easily stored by wrapping each bar in parchment paper and placing packets into a large ziploc. Will stay in fridge for 3-4 days. Can be frozen and defrosted as needed.
Enjoy!
xo