Shift Favourite – Healthy Crispy Chicken Nuggets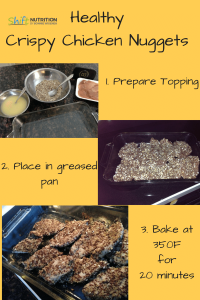 It's that weekday grind, right? What to prepare? I find with my family, planning is usually key. Sometimes though, like on days like today where my day literally got turned upside down, you gotta roll with it.
I popped into the grocery store to get chicken and came home to prepare this on the fly. It's that easy.
Oh, and as you know, chicken nuggets are often a favourite among the younger set. However, the packaged brands are often made with so many additives and preservatives, they can hardly be called healthy.  In fact, in my book, they would be a definite no-no.  If you think it's hard to make a homemade replacement that kids will enjoy, think again. This one is baked, and is chock full of healthy Omega-3s, and fibre. Yup! It's a Shift Favourite around here.
What You Need:
3 boneless skinless chicken breasts (or boneless thighs if you prefer dark meat)
1/4 cup oat bran
1/4 cup wheat germ
1 tbsp coarsely ground flax seed
1/4 cup coarsely ground almonds or filberts
1/2 tsp sea salt
1/2 tsp pepper
pinch of garlic powder
1/2 cup water
1 egg, lightly beaten
What You Do:
 Preheat oven to 350F
Cut chicken breasts into nugget sized pieces (I made mine scallopini) and set aside
Combine dry ingredients in a large bowl. Mix well.
Combine water and egg in a medium bowl. Dip each piece into the egg mixture. Then dip each piece into the egg/water mixture. Then dip each piece into the coating mixture.  Make sure to coat each piece well.
Place all of the coated pieces on a baking sheet lined with parchment paper.  Place in oven and bake for 20 minutes or until golden (check at the 15 minute mark, as oven temperatures vary).
Want to add a dipping sauce the kids will love? Here's an easy honey mustard one, that contains…well, honey and mustard. Just mix 1 1/2 tsp of honey with 1 tbsp of dijon mustard, et voila!!
Hope this made your night a bit easier in some way.  Enjoy…