FREE 'HEALTHY THROUGH THE HOLIDAYS' SHIFT INTO HEALTHY HABITS CHALLENGE – 2017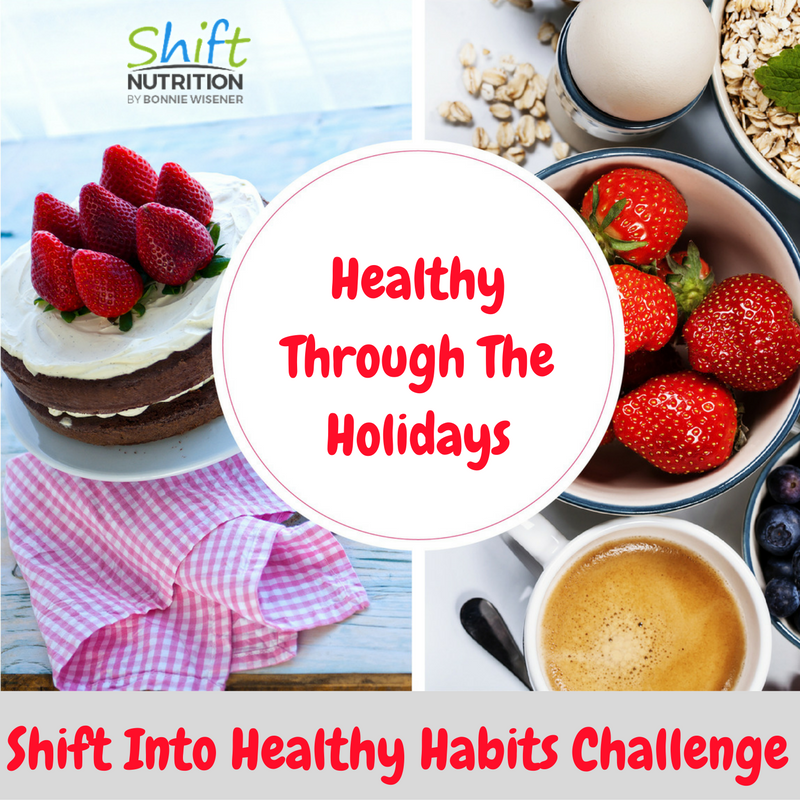 It's hard to believe it's that time of year again. 2017 is coming to a close. What a year it's been! Here come the holidays and all of the marvelous (and sometimes stressful) celebrations that come along with them. Holiday parties, treats, vacation schedules…
As wonderful as holiday season can be, it can also be very stressful for many. The idea of falling off of the healthy eating bandwagon, the false sense of security that we give ourselves planning to "get back on track" in the new year.
Problem is, good healthy habits are sometimes hard earned, and swaying from them is easy, but getting back on track – not so much.
Same with weight loss. Gaining weight seems to happen at lightening speed, while trying to get the weight off – not so much.
Crash diets in January are NOT the answer. Staying the course now and through the holidays is really where it's at.
You are invited to a FREE 'Healthy Through the Holidays' Shift Into Healthy Habits Challenge.
December 18th – January 5th
I want to provide you with the support you need to help keep you motivated and on track:
 Tips to manoever the holiday treat tables and all inclusive buffets.
Recipes that will knock your family's socks off.
Education, motivation and guidance that will help you stay on track with your health goals, and allow you to start 2018 off loving yourself!
Challenge yourself and you will get:
Tips on how to enjoy the holiday celebrations and food, while still making smart, healthy choices.
Support and guidance by a qualified nutritionist and wellness coach.
Remember last January? Don't kick off the new year kicking yourself in the butt. Start off the new year on a fresh new track. Feeling better than you have all year, and ready to accomplish anything.
Show 2018 who's boss!
Click the link below to sign up.
This FREE Shift Into Healthy Habits Challenge Will Help You Stay on Track over the holiday season so that you can Kick-Start Your Weight Loss Goals and Start the Feel Your Best in the New Year.  No Matter How Many Temptations There Are.

Click the link below to join the FREE challenge December 18th – January 5th

Sign up to reserve your spot! I look forward to shifting with you, beginning on Monday, Dec. 18th!