Buckwheat Waffles (Gluten-Free)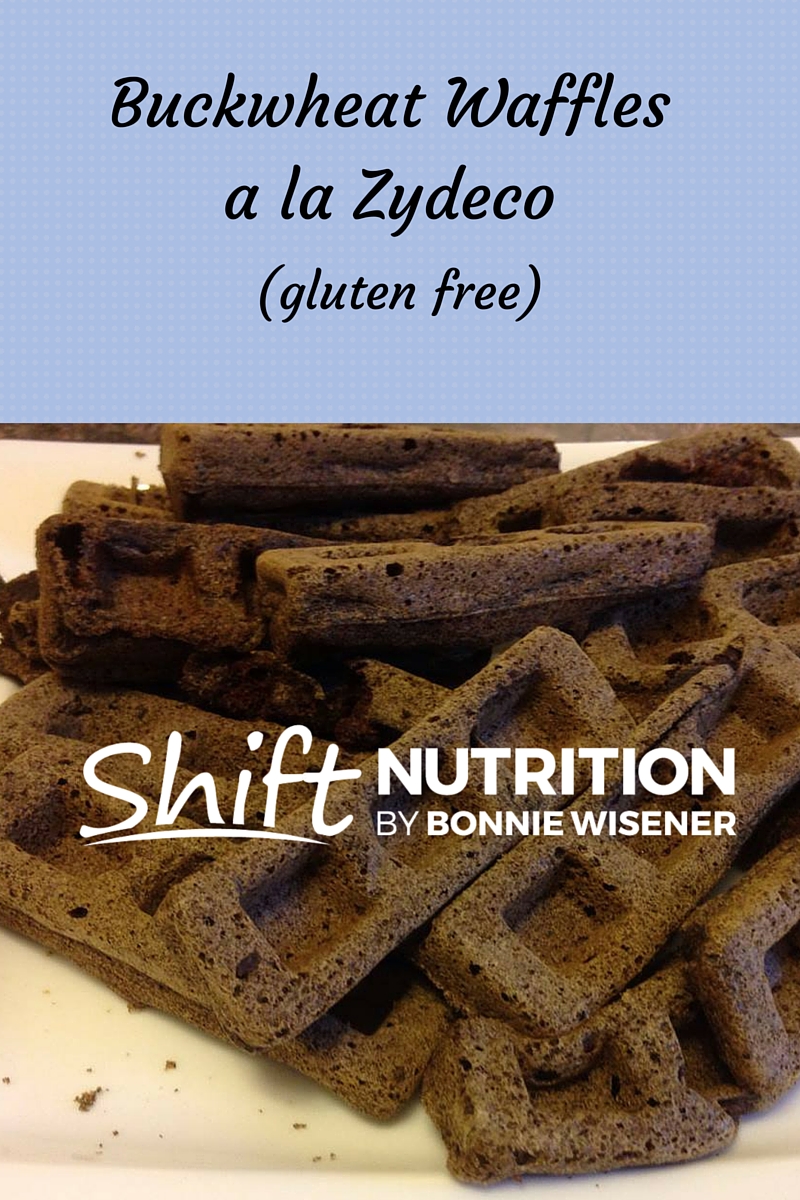 Waffles. Such an indulgent everything. If you have homemade waffles for breakfast, it feels so luxurious (even more so if someone else is preparing them!), the time it takes to prepare and enjoy them.   If you have them for a treat, they conjure up images of indulgent (maybe chocolate smothered) goodness.
My family and I visited a cool University hangout when we were in Syracuse for an NCAA basketball game this past winter. It was called Funk 'n Waffles. Live music by night, brunch place by day. Very cool spot.  They had savoury waffles and sweet waffles and everything in between. To be honest, most of them were kinda gross but I opted for a half portion of the Buckwheat Waffle (the portions were HUGE) and that's what inspired the idea for these waffles. It reminded me of one of my favourite breakfast growing up. Whenever I used to sleep at my best friend's house, her mom would make us the most amazing made-from-scratch buckwheat crepes in the morning. I don't think I have had anything buckwheat since.
Poor Buckwheat. It's name is so misleading. It is a gluten free grain.  It's a good source of B vitamins  (Niacin and Folate) and is rich in  magnesium and phosphorous as well, making it a very mineral dense grain.
I basically took a regular waffle recipe that I have used over the years and played around with it a few times until I got the consistency I liked.
If you don't have a waffle maker, you can easily turn these into pancakes!
What you need:
1 cup buckwheat flour
1 tsp baking powder
1 tsp baking soda
1 tablespoon coconut sugar
1/4 tsp sea salt
1/4 tsp cinnamon
1 1/2 cups almond milk (or other non-dairy milk)
1/4 cup melted coconut oil
1 egg, beaten (or to make vegan – flax meal alternative, as below)
What you do:
Pre-heat your waffle iron
In a medium sized bowl, whisk together the dry ingredients (buckwheat flour, baking powder, baking soda, salt, sugar and cinnamon.
In a small bowl, whisk the almond milk, coconut oil and egg (or flaxseed mixture).  Pour the contents of the small bowl into the large bowl and stir them together until smooth. Let batter sit for 3-5 minutes.
Pour batter onto the waffle iron plates. Close the waffle iron cover and cook until the steam stops.  Lift the waffle out of the iron.
You can have your oven pre-heated to keep the waffles warm while you are still cooking the batch.
They are best eaten right off the waffle iron, but these do freeze nicely.
Serve with fresh cut up fruit like blueberries and banana and a bit of maple syrup to taste.
For vegan option, substitute egg with: 1 tbsp flaxseed meal + 3 tbsp water. Mix. Let sit for one minute.