Soup of the Season! Creamy, Delish Pumpkin Lentil Soup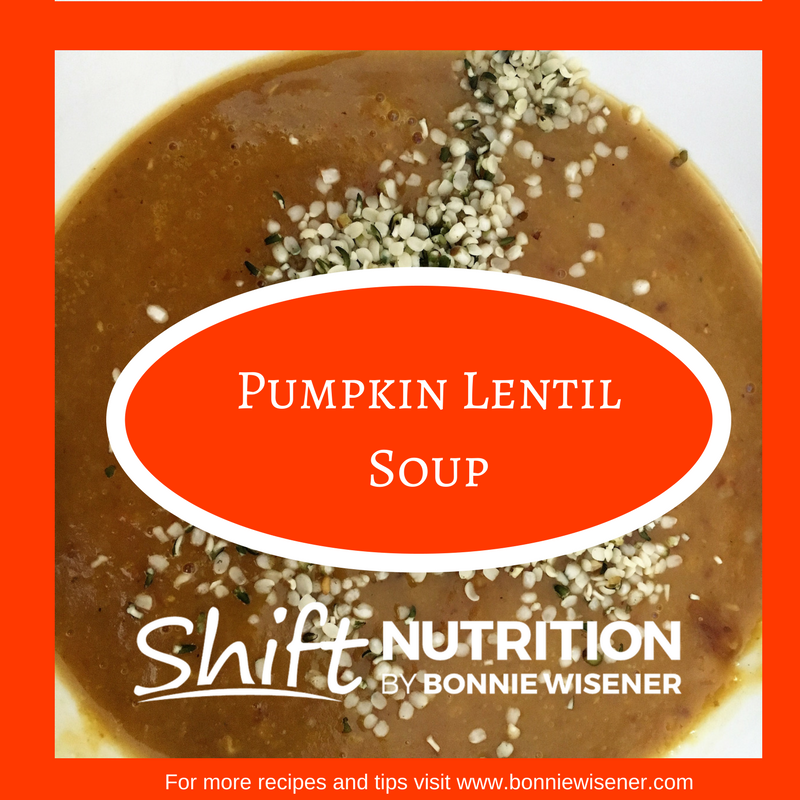 So, it seems that pumpkin season is getting longer and longer. Pumpkin Spice fans can barely wait for September to be packed away before all of the coffee offerings and recipes start emerging.
For me, cool crisp fall weather means two things-
1. Sweater Weather (a good friend dubbed this one, and it stuck – what girl doesn't love comfy fall sweaters. Not quite cold enough for a jacket. Apple picking in a sweater, morning walks in a sweater. Ahhh. Love it.
2. Soup Season is ON!!! I love love love soups. They are so incredibly nutritious, easy to make ahead and freeze, economical, and easy on the digestive system.
This soup recipe was introduced to me by a friend last fall. I have slightly modified it, and it is one of my top faves. I hope you enjoy it.  It is full of vitamins, protein and fibre.
Lentils are rich in protein and fibre. They are considered 'pulses' and are part of the legume family. Pair them with Pumpkins and you have a soup rich in Vitamin C and Vitamin A, tryptophan (hello amino acid that helps make happy neurotransmitter seratonin!)not to mention the rich minerals zinc and magnesium.
Oh, and did I mention how incredibly delicious this soup is? Make a huge batch and freeze some for those days when you may not have time to cook.
PUMPKIN AND LENTIL SOUP (serves 6- 8)

WHAT YOU NEED:
1 onion chopped
1 cup dried red lentils
1 can puréed pumpkin
2 tbs garlic minced
2 tsp ginger
2 tbs coconut oil
1 tsp cayenne
2 tsp curry *(optional)
1/2 cup coconut milk
Salt and pepper to taste
WHAT YOU DO:
Sautée some onion, garlic, ginger in coconut oil.
Throw in approx a cup of red lentils and a can of organic pumpkin purée (best to roast fresh pumpkin in the oven though but I had No time) and add 8-10 cups of vegetable broth in there. Add seasonings
Bring to a boil, stir and Simmer 30 mins
Purée
Mix it all together again and bring to a boil
Add some low fat coconut milk and season to taste
** if you are having this soup as your meal, you may want to add sprinkle some hemp hearts on top to add some more protein, omega 3 fats and fibre**
If you are looking for more pumpkin recipes, check out this 'shifted' Pumpkin Spice Muffin recipe – beware – these healthy muffins are so delish, they will be gone before you know it. You may want to consider doubling the recipe. These also freeze well.  Click below for recipe.
Now that we have established that it is… SOUP SEASON (!!!!), download your copy of my e-book Savoury Soup Recipe Collection and discover 5 Shift favourites. Click link below for access to my e-book and download your copy today.
SAVOURY SOUPS COLLECTION – 5 SHIFT FAVOURITES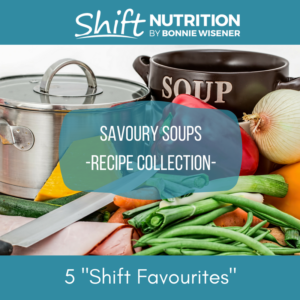 Enjoy all of the comforts that Fall has to offer – from sweaters to soup!
x0