All Things Pumpkin..'tis the season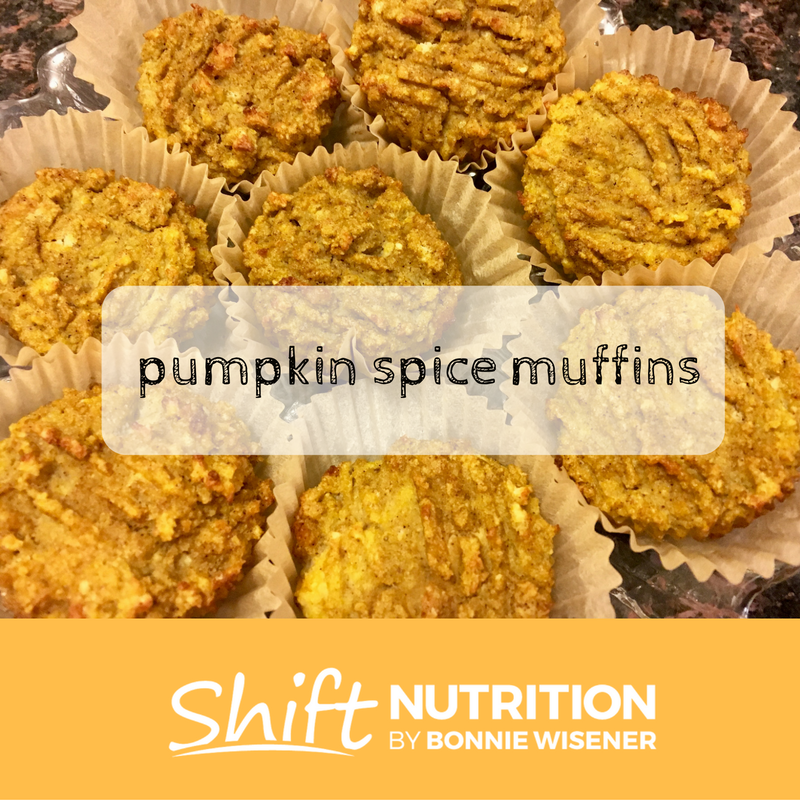 While it's true that most of the world around me seems obsessed with all things pumpkin this time of year, I am going to admit right off the top – I am not such a huge follower of the 'pumpkin spice' phenomenum. I don't care for it in my hot beverages, I don't want it in pie. I am not interested in it in most baked goods. So, what's a nutritionist girl to do when one of her clients asks here to please "shift" her favourite pumpkin muffin recipe?
Once a month in my private facebook community, I offer to have people send me their family's favourite recipes and I offer suggestions on how they might be made healthier —sidebar, 'say what???you haven't joined yet—

Click here for FREE nutritional guidance and support and some pretty amazing recipes and challenges!!   I want to join this FREE facebook community
So, I set out to make this the tastiest, healthiest pumpkin muffin I could. Her recipe was full of added sugar and artificial flavourings. Most pumpkin type recipes are.
The recipe below is where we ended up. She and her family were thrilled, and I have to begrudgingly say, it's not half bad, if you like that type of thing…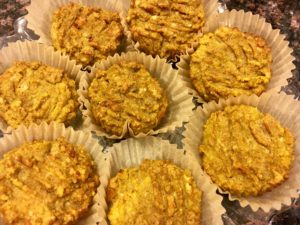 What you need:
1/2 cup coconut flour
4 eggs
1/4 cup coconut oil, melted
6 tbsp pumpkin flesh or canned puree
2 tbsp maple syrup
1 tsp cinnamon or allspice
1 tsp vanilla
1/2 tsp baking soda
What you do:
Pre-heat oven to 350. Line a muffin tin with liners.
Blend eggs and coconut flour. Mix well.
Add the pumpkin puree, coconut oil, vanilla and maple syrup. Blend.
Add the baking soda and cinnamon/allspice and mix well.
Spoon into muffin cups, filling about 2/3
Bake for 25-30 mins
Makes 10-12 regular sized muffins. Kinda supremely delicious a bit warmed with a dab of butter.
Looking for more pure pumpkin goodness?  Click here for the most filling, delicious and easy to make soup recipe that is a favourite among clients – AND EVEN MY KIDS ENJOY!
The fact is, while I am not a fan of the pumpkin spice craze, it's just a difference of personal taste, there is no denying that pumpkin puree and seeds are among nature's healthiest foods –
TOP 5 NUTRITIONAL BENEFITS OF PUMPKINS!
1.   Pumpkins are an amazing source of Vitamin C, which is great for our immune system.
2. Pumpkins are also a good source of Vitamin A, which is good for your eyesight, and general eye health.
3. Pumpkin Seeds contain tryptophan. Tryptophan is helpful in keeping your happy. It is an amino acid that helps our body produce the neurotransmitter seratonin.
4. Pumpkin seeds are also an excellent source of Zinc, which is essential for heart health.
5. Pumpkin seeds contain a good deal of Magnesium which is important to maintain healthy nerves, muscles, blood pressure, and immune function.
Truth is, I am totally a pumpkin seed girl. I sprinkle that stuff like fairy dust on just about everything all year long. My favourite ways of using pumpkin seeds are:
-adding them to my oatmeal
-adding them to my smoothie bowls
-adding them to my cold cereal
– adding them to my yogurt
-adding them to baked goods like apple crumble
Maybe I am not such a pumpkin hater after all.
PS – I even liked the muffins!
xo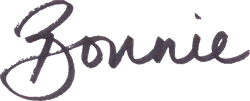 P.S. Don't be shy. Get into the facebook group and post your family's favourite recipe – I am happy to make it healthier for you. Or, email me at bonnie@shiftnutritionandwellness.com.