SHIFTED Mac and Cheese (Gluten/Dairy/FREE)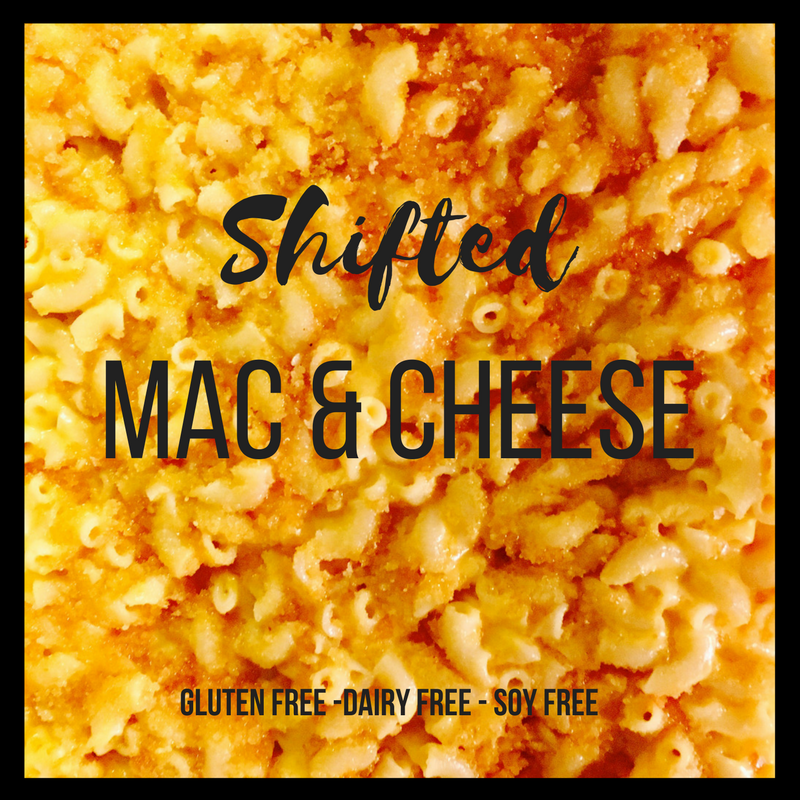 Another Shift-ed family favourite.
I wish I could tell you that when my kids were small they did not have boxes and boxes (and boxes!) of Kraft Macaroni and Cheese.
Somewhere along the way, I did begin to make my own. It was a step up, for sure. This recipe is adapted from our long-time family favourite. It is even better.
We switched it up to accommodate our own needs, making it gluten and dairy free. It also happens to be soy-free for those who avoid soy.
I have also added Nutritional Yeast. Nutritional yeast is a powerhouse of nutrients. It is high in B vitamins, and also high in protein.  I love adding it to foods whenever I can. The colour and the taste lends itself nicely to a "cheesy" replacement.
What you need:
2 tbsp coconut oil
2 tbsp gluten free flour/almond flour
1 cup almond (or coconut) milk
8 oz Daiya cheddar style shreds (dairy/lactose/casein/soy free)
1/4 tsp cayenne pepper
450 g gluten free elbow macaroni (2 cups)
1 cup gluten free breadcrumbs
1/4 cup Nutritional Yeast
What you do:
1. Cook macaroni according to package directions
2. Drain and place in large bowl.
3. In a separate medium sized pot, melt 1 tbsp coconut oil. Stir in flour and whisk until smooth.
3. Slowly add milk and continue stirring until milk thickens.
4. Add small portions of Daiya to the milk, stirring and allowing cheese to melt into liquid before adding more. Continue to do this until all 8 oz. of the cheese is used up and fully melted into the milk. Add cayenne pepper and stir.
5. Pour cheese sauce over top of macaroni in large bowl.  Blend together with a rubber spatula until all of the noodles are covered evenly with cheese. Pour into large casserole baking dish.
6. Melt the remaining 1 tbsp of coconut oil into a small saucepan on medium heat. Mix in breadcrumbs and Nutritional Yeast. You will get a crumbly mixture. If you need to add coconut oil you can do so.
7. Sprinkle crumbly mixture over top of macaroni in the casserole dish.
8. Bake, uncovered,  for 30 minutes, and serve.
Total Prep/Cook Time 50 minutes.
Enjoy
xo