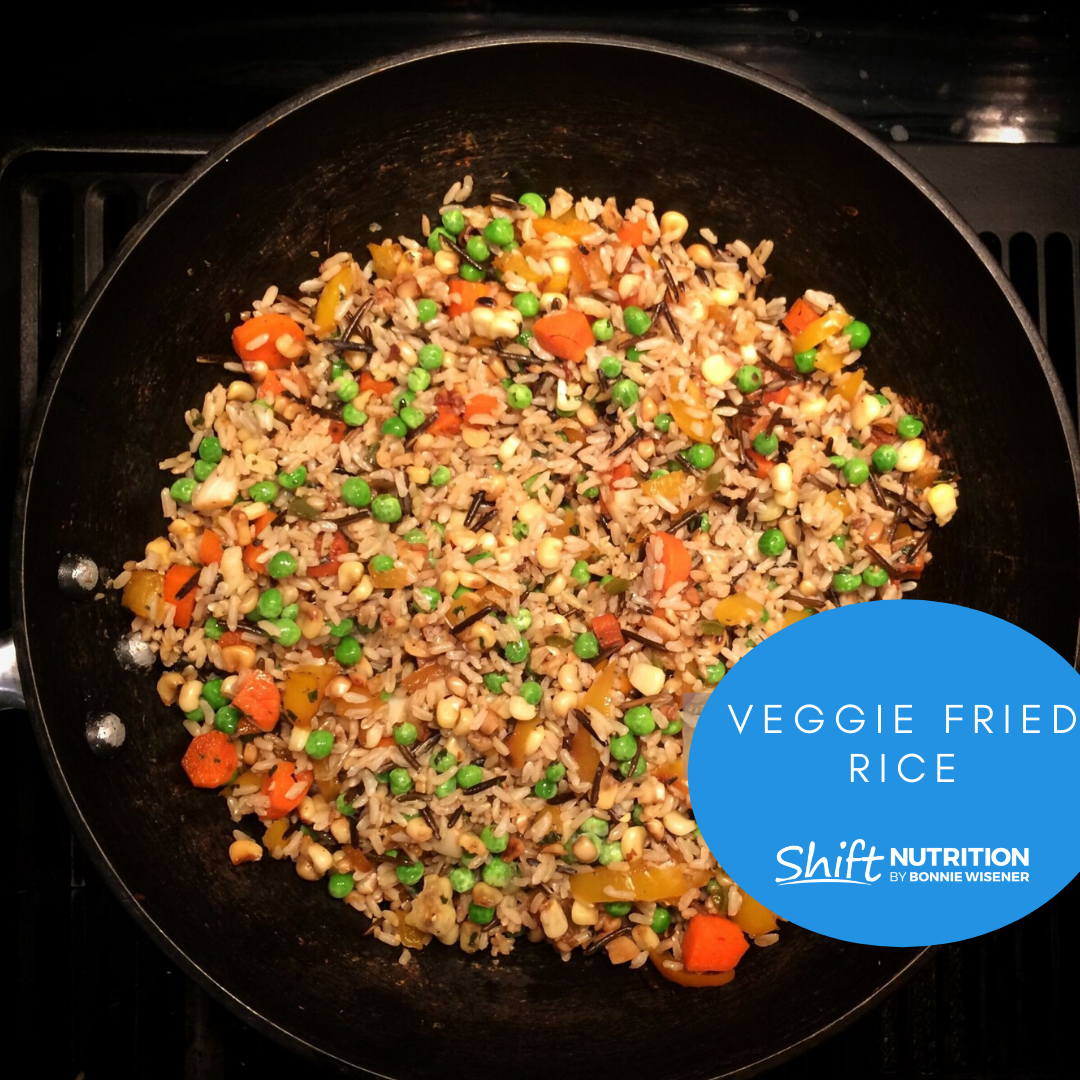 I just made this Shift favourite last night. It is on the roster on the regular, and yet, I never posted it here. Until someone recently asked for the recipe and here it is! I have made this many different ways. The recipe listed here calls for brocolli and carrot, but I have added all kinds of veggies including peppers, zucchini, spinach, mushrooms and more. The beauty of it is, it is a great way of throwing any veggies you have in your fridge into a quick dinner.
What you need:
¼ cup grapeseed oil
¼ cup Tamari or Coconut Aminos
1 onion, diced
Salt and pepper
3 cloves garlic, finely chopped
2 inch fresh piece of ginger, peeled and finely chopped
1 large carrot, chopped
2 cups broccoli chopped
2 large eggs, beaten
1 cup brown rice*
1 tsp sesame oil (optional)
*lower carb – substitute cauliflower rice or low carb/high protein -substitute Rizopia
What you do:
Cook rice to package directions.
Heat a large pan over high heat. When hot, add 1 tablespoon of grapeseed oil.
Add the onions, and cook for 1-2 mins.
Add garlic, ginger and tamari/coconut aminos. Can drizzle a bit of sesame oil here as well.
Stir fry for about 1 minute, until fragrant.
Add the carrots and broccoli and cook for 3-5 minutes on medium heat, until tender.
Transfer contents of the pan to large bowl.
Return the pan to the heat, and add 2 more tablespoons of the oil.
Add the eggs and season with salt and pepper. Stir the eggs constantly and cook well, then transfer egg to the bowl.  Break the eggs up with a wooden spatula.
Return the pan to the heat, and add the remaining oil.  Add the rice to the pan and use a spoon to break up any clumps.  Season with salt and pepper and stir fry the rice to coat evenly with the oil.  Stop stirring and let the rice cook undisturbed until it is slightly crispy, about 2 minutes.  Stir the rice. Transfer to the bowl. Stir all the ingredients together.  Serve.
Additional Protein add ins: previously cooked grilled chicken, tofu, green peas, edamame or shrimp.