SAVOURY SEEDED BAKED CHICKEN – A FAMILY FAVE!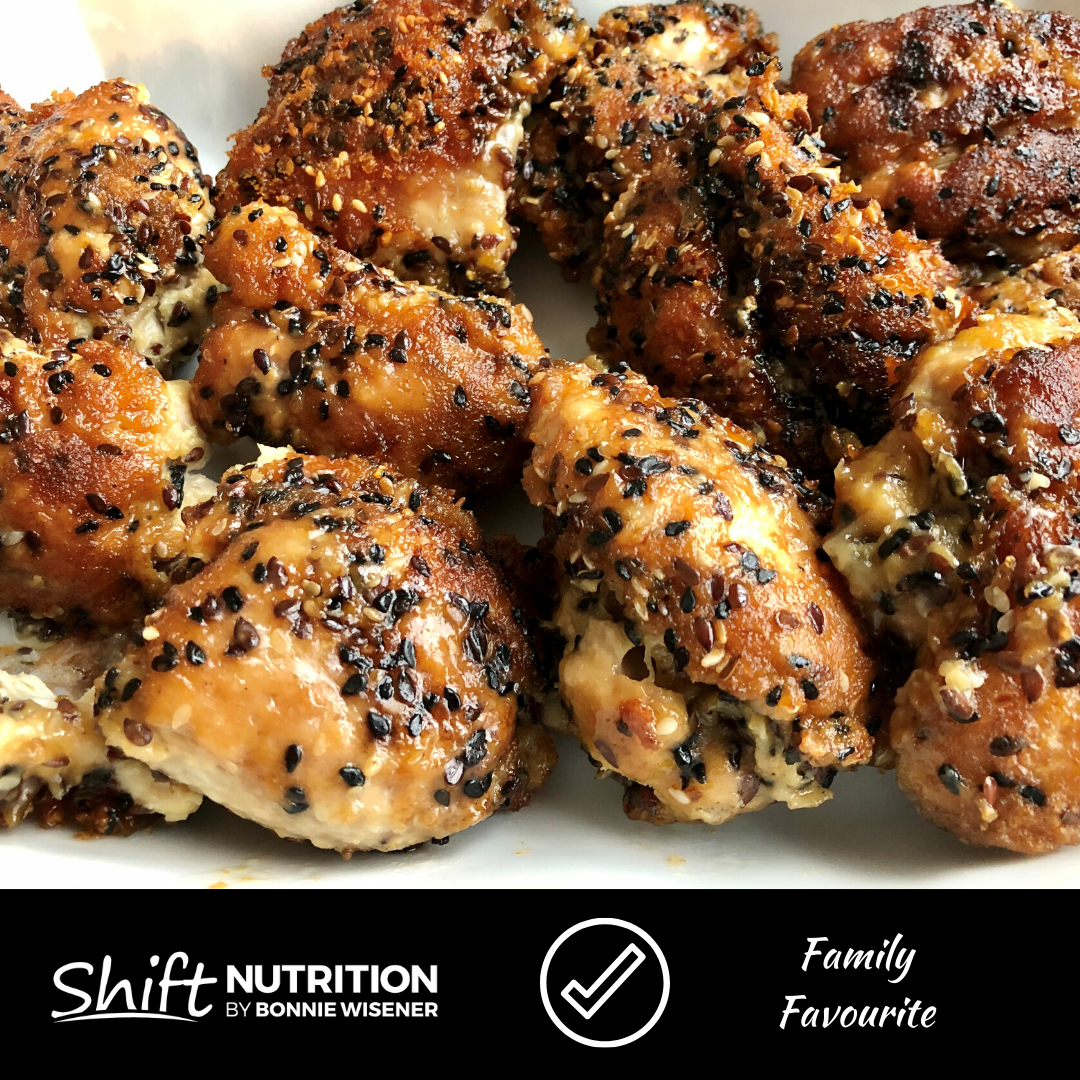 Here is one that every single person at our table enjoyed. Does that make me happy? Well, if you know, you know…
If you cook for your family on the regular, you know that everyone has their favourites and their …well, not so much…
THIS was epic because everyone enjoyed it and wants it on the roster on the regular. I am thrilled because, let's face it, there are many things we can do with chicken, right?  I love this recipe because it gives me a chance to up the quality of this protein source by adding some increased fibre, omega 3s, and calcium. These are not nutrients normally associated with main dish chicken.
Back to the main point though…EVERY. ONE. ENJOYED. IT.
What you need:
6 – 8 boneless chicken breasts or thighs (I used thighs)
1 tsp sea salt
1 tsp black pepper
1 tsp garlic powder
1 cup bread crumbs (regular or gluten free)  or almond meal
1/4 cup flax seeds
1/4 cup ground flaxmeal*
1/2 cup white sesame seeds
1/2 cup black sesame seeds
3 eggs
What you do:
Preheat oven to 350.
Place chicken in a medium sized bowl and season  with salt, pepper, and garlic powder. Make sure well covered all over.
In a separate smaller bowl, combine bread crumbs or almond meal, flax seeds and flaxmeal, white and black sesame seeds. Blend well.
In another bowl, beat eggs.
Dip chicken into egg, then bread crumb mixture, making sure that all sides are covered.
Place each coated chicken piece onto a parchment covered baking pan.
Place in preheated oven and allow to cook for 45 mins to 1 hour (flip chicken at 30 minute mark.
Serve with big green salad, and enjoy!
*note you can grind flaxseeds yourself if you own a coffee grinder, or just purchase a small amount of flaxmeal in bulk and a small amount of flaxseeds in bulk. Flax offers excellent fibre in whole form and great omega 3 content in ground form.