Romaine, Kale and Fig Summer Salad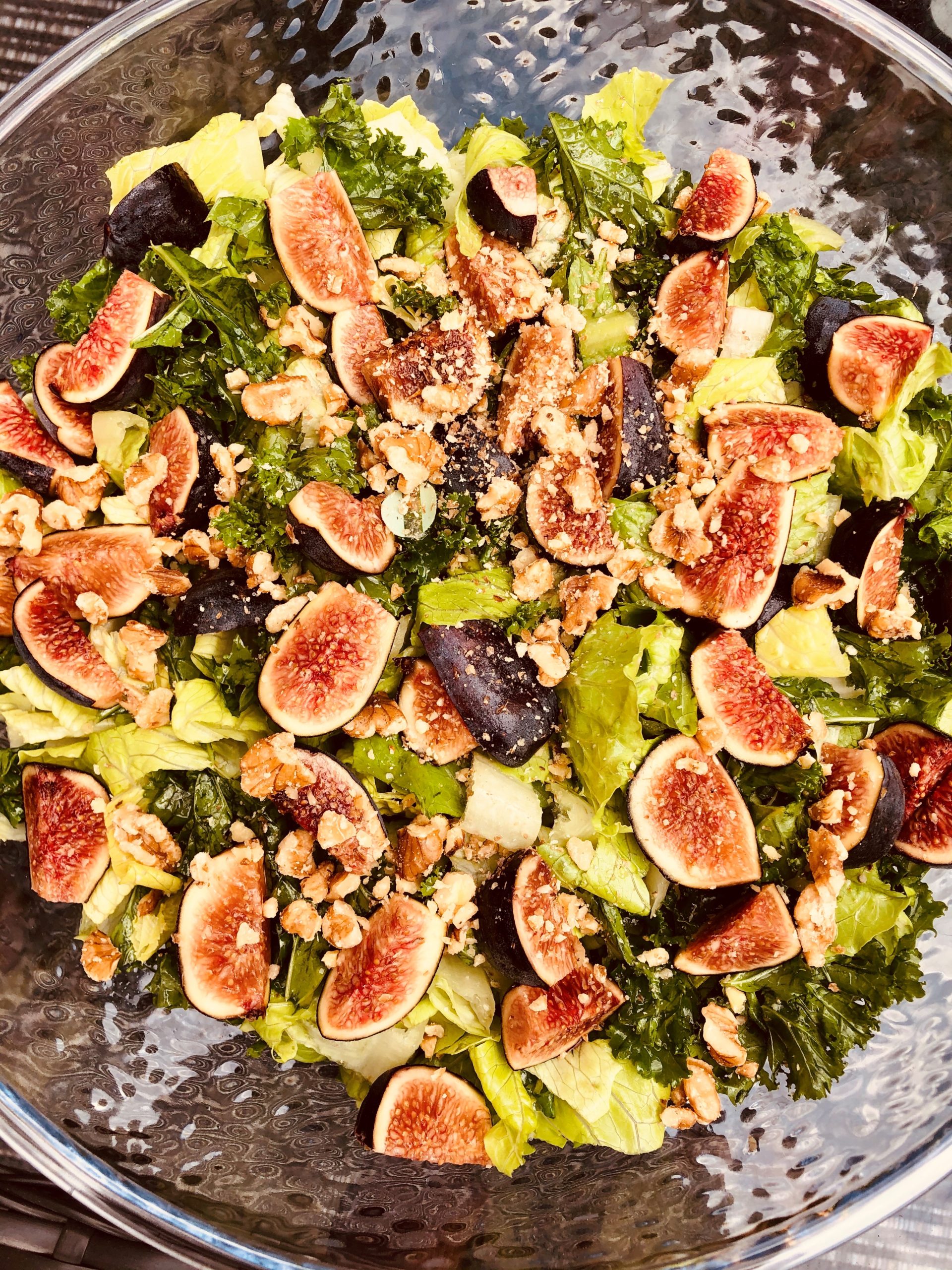 Summer is all about Salads…
Delicious, crisp and refreshing salads.
This is a new Shift Sensational Summer Salad recipe. I love figs. I hardly ever buy figs because they come in such a large package, usually a boxful, in the grocery store. When I saw a small package, I grabbed it. Figs are a great source of minerals and soluble fibre and are rich in antioxidants like vitamin A and K.
Each summer, my husband plants a vegetable garden. As the years go by, my appreciation for his efforts increases. I love going out into the garden in summertime and grabbing some fresh basil, or parsley, as I am preparing a meal. In addition to a pretty impressive array of tomatoes, we have some fresh mint, cucumbers, and kale. The kale is unbelievable. It has grown abundantly, and rapidly. It seems as soon as I pick and use it, it grows back.
This salad combines this fresh from the garden kale, with some chopped romaine, figs and some crushed walnuts. Simplicity beyond.
A light toss with some freshly squeezed lemon juice, extra virgin olive oil, and some sea salt and black pepper and boom – top it with some quartered figs and voila! A serious summer favourite.
Try it and let me know what you think. Doesn't hurt that it looks absolutely beautiful on the dinner table.
What you need:
Large bunch of kale (about 1 big bushel), rinsed, dried and chopped.
Romaine lettuce, approx 2 stalks with leaves torn off, rinsed, dried  and chopped
2 tbsp extra virgin olive oil
6 fresh figs
1/2 cup chopped walnuts
sea salt and black pepper to taste
What you do:
1. Rinse and trim kale and romaine. Place flat on cutting board and chop.  Place in a large bowl.
2. Add 2 tbsp extra virgin olive oil to bowl. Using your fingers, massage oil into kale and romaine leaves until tender.
3. Add lemon juice, sea salt and pepper.
4. Add chopped walnuts. Toss gently to combine.
Option:  Add crumbled feta or goat cheese.
Enjoy