Peanut Butter Pudding Cups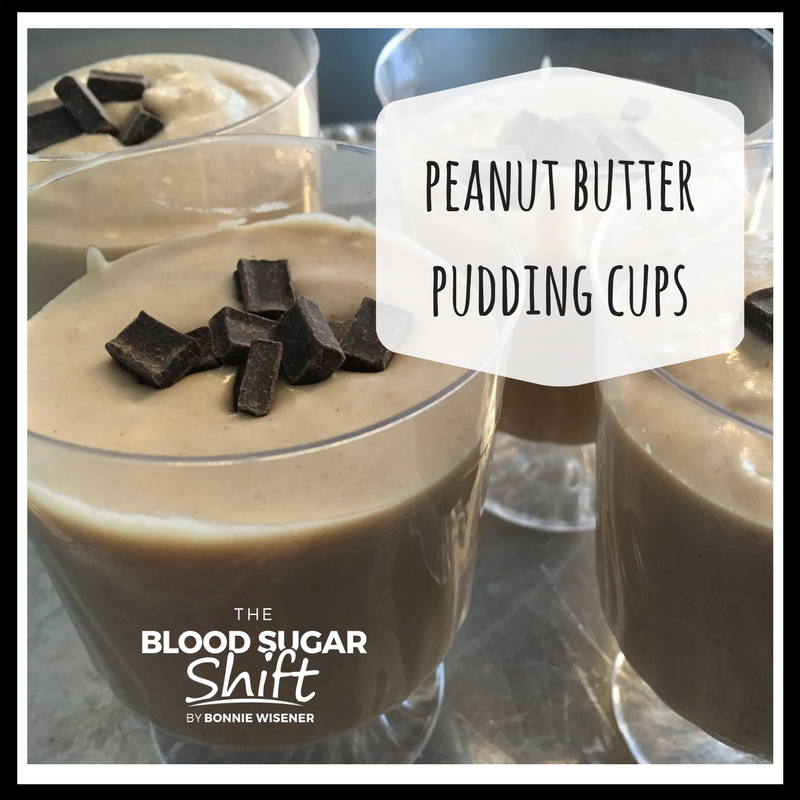 Most people trying to lose weight or manage their blood sugar struggle with snack time.
Sure it's easy to find a healthy roster of snacks, and eating a handful of almonds, veggies with hummos and guac and carrot sticks will definitely help to shift those sugar cravings.
What about those times when you are just in the mood for something treat-like?  Then what?
If you are looking for a delicious dessert that won't leave you feeling stuffed and bloated, this grain-free, creamy sweet treat will satisfy.  If you love Reese's Peanut Butter Cups, you will love these.
I made these Peanut Butter Pudding Cups with natural peanut butter, but you can substitute almond butter or if serving in a nut-free environment, try using sunflower butter and they will be equally delicious.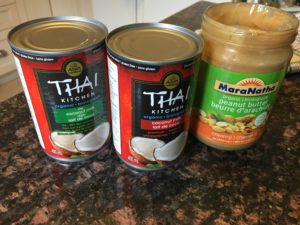 I love this dessert because it will satisfy a craving for something sweet, but won't leave you feeling bloated, or spike your blood sugar because it's grain free, there are no processed sugars, and it is full of healthy fats that will keep you fuller for longer.
Oh, and the best part? 4 ingredients. That's it. Couldn't be simpler.
Plus, it looks impressive – serve it as a dinner party dessert in little taster cups!
I topped ours with dark chocolate chips, but you can use cacoa nibs to make these dairy free as well. All delicious options.
What you need:
2 cans coconut milk, refrigerated overnight
4 tbsp maple syrup
6 tbsp nut butter of choice (I used Marantha peanut butter)
1 tsp sea salt
What you do:
Carefully separate the coconut cream from the milk, and scoop it into a large bowl. Disgard the water, or refrigerate it and save it for a post workout drink or to add to a smoothie).
Add the maple syrup and peanut butter to the bowl. Use hand mixer to blend, or just mix it up with a big wooden spoon.
Place into glass cups or bowls and top with cacao nibs or dark chocolate chips.
Keep refrigerated until you are ready to serve.
Enjoy!
xo