By Popular Demand – Post Passover Cleanse!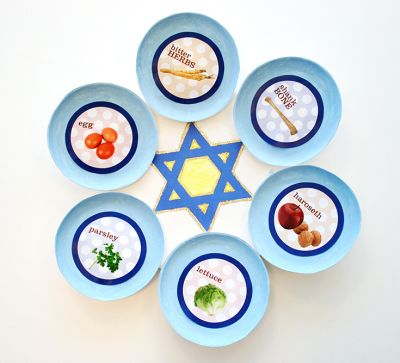 Like many holidays, Passover is very food-centred. It's a time when many of us can't help but over indulge.  Do not beat yourself up about going overboard this holiday season.  Whether you are still recovering from Easter goodies, or are already starting to feel the effects of matzah, matzah meal and the like, not to mention brown sugar overload – you are most definitely not alone. Holidays can be challenging when trying to adhere to our healthy eating plans, but they are so wonderful because of the aspects that feed our souls. Togetherness, traditions, and for many, spiritual grounding.  So, I say, enjoy, drink it all in. Create and revel in the traditions you create with your families, even if some of the foods involved make us feel-
1. Bloated (here's looking at YOU matzah pizza!)
2. You woke up with stomach cramps or heartburn (who knew just one more slab of matzah and Temptee could make you feel this bad?)
3. You are achy all over  (sugar. sugar. sugar. you have awoken every arthritic bone in my body?)
4. You feel tired and lethargic (matzah, sugar, chocolate. repeat.)
And now, you can't stop craving all of these foods. You are trying – but it ain't so easy.
It reminds me of when we came back from an all-inclusive vacation in Jamaica where we ate our faces off enjoyed some amazing meals, and my 14 year old daughter said to me "mom, I can't stop eating, do you think it's because we ate so much in Jamaica?"

So, what can you do about it?  Here are 5 easy steps to get you off the Passover, Easter, birthday celebrations, every-excuse-to-eat-sugar roller coaster. Try this for one week!
Start your day with water & lemon. This will help to gently cleanse your liver and ease digestion.
Drink tons of  water (decaf herbal tea is also OK / coffee is NOT – sorry/not sorry).
Try and replace one meal a day for one full week with a smoothie, ensuring that you include a protein and fat source such as hemp hearts, or an avocado and protein powder (I love Vega!).
Remove white and processed foods from your diet. Ensure that you include lots of fresh fruits and vegetables, organic poultry and wild caught fish. Stay away from anything in a package.
Walk. Then walk again. Then walk some more. Try and incorporate 30 minutes of exercise into your day. Instead of taking the elevator at work, use the stairs. Take a walk outside during your lunch hour.
Feeling like you could use a bit of inspiration, guidance and accountability? Please join us for the next ShiftShape 10 DAY ONLINE CLEANSE.  This program is exactly what you need to get you off the sugar roller coaster and get your body back on track.  A cleanse will help you –
improve digestion
kick start a weight loss initiative
gently remove toxins from your body
reduce or diminish cravings
increase energy and a sense of vitality
eliminate inflammation in your body
create awareness around foods that may not be serving you, and introduce mindfulness around foods that will make you feel more energized, less bloated and more alert.
The best part is that you get to participate from the comfort of your own home, receive daily guidance from me, a qualified nutritionist,  and enjoy the support and accountability of our amazing private facebook community.
Here's what one recent participant had to say about the cleanse:
"I just wanted to update you that I'm so happy that I started this new food lifestyle with your cleanse. I'm probably 90/10 to this day & I'm feeling beyond great. It's been so refreshing to make educated food choices & still feel totally satiated & fulfilled. I have a new found understanding & respect for organic foods which allows me to shop in a more knowledgeable fashion. I've recommended your services to many of my friends who could benefit greatly from your advice. I hope they contact you. 

Thank you again Bonnie ??"

Karen Baruch, Toronto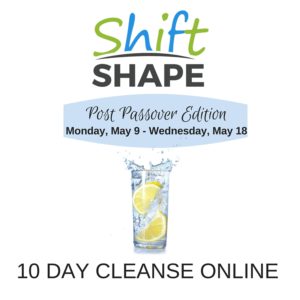 Registration is now open. By request, the next ShiftShape 10 DAY ONLINE CLEANSE will begin after the Passover holidays on Monday, May 9th and run till Wednesday, May 18th.  Join us. You will be so happy that you did.
For a limited time, take advantage of early bird pricing. You can get the whole program for $49.  Prices will go up after Passover ends.  Click here for more info, and to register: