"Shifted" Choco-Coco Cookies (Gluten-Free)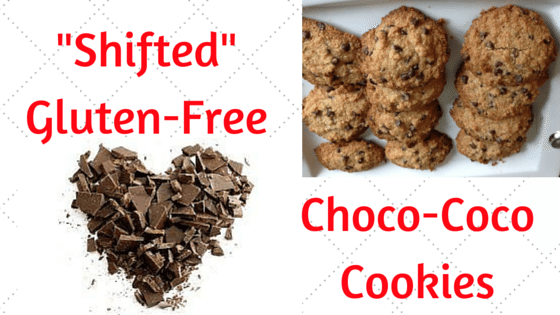 One of my favourite things to do is to try and make unhealthy but delicious things healthier for my family. I do not consider myself a good baker, so this often results in a "fail". Not this time. I "shifted" one of our family's favourite chocolate chip cookies to make it gluten free and really low in sugar. It's still very very yummy. No need to fall off the "healthy wagon" this Valentines Day or deprive yourself of a yummy chocolate treat. Way better than a lot of other options on the shelf. Oh, and they take a total of 20 minutes to make and bake!

What You Need:
1 cup almond flour
1/4 tsp salt
1/4 tsp baking soda
1/4 cup melted coconut oil (or grapeseed oil)
2 tbsp maple syrup
1 tsp vanilla
1/4 cup cacao nibs or dark chocolate chips (see article on cacao vs. cocoa in link below)
1/4 cup unsweetened coconut flakes (optional)
What You Do:

Preheat oven to 350
Line a baking sheet with parchment paper.
In a small bowl, combine melted coconut oil, maple syrup and vanilla.
In a separate, larger bowl, mix almond flour, salt and baking soda. Pour coconut oil mixture into flour mix and stir to combine.
Mix in cacao nibs/chocolate chips and coconut flakes.
Drop tablespoon sized cookies onto pan. Place in oven. Bake for 12-15 minutes, until a little crispy. ENJOY!

Wondering about the difference between cacao and cocoa? This article explains it well.
http://foodmatters.tv/content/raw-cacao-vs-cocoa-whats-the-difference