"Shifted" Brownies (Gluten-Free!)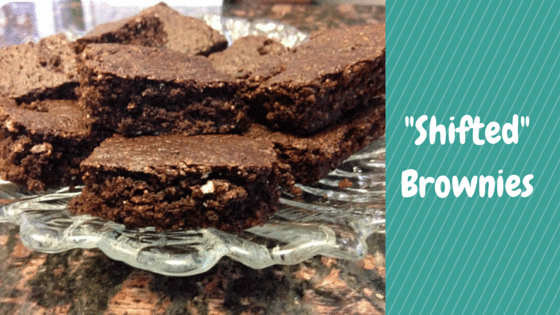 I am not a good baker.  There. I said it. I am really not. When I cook, I can make things up as I go along, and they often work out. With baking, I always need to follow a recipe.  What I seem to be good at though, is adapting other people's recipes for baked goods.  Did a good job with a couple of them this week. The kids gave them a "thumbs up" so that must mean something, right? They are happy, and I am happy, because I take all of the "crappy" ingredients out and Shift them into what I consider better ingredients.  This Brownie recipe is a perfect example. It's a blend of a few of our favourite brownie recipes, with a Shift (okay, I will stop!). Try them!
What You Need:
1 egg
1 cup whole, raw almonds or 1 1/4 cup almond meal (I went the whole almond route because I didn't have almond meal)
3/4 cup wheat-free oats, blended into a flour (you can substitute organic, unbleached or whole wheat flour)
1/2 cup cocoa powder
1/2 tsp sea salt
1/4 tsp baking soda
1/2 cup  non-dairy chocolate chips (or cacao nibs) plus 1/4 cup to mix in
1/4 cup coconut oil, melted plus 2 tsp to grease pan
1/2 cup coconut sugar (or 1/2 cup organic cane sugar)
1/4 cup almond milk
1 tsp vanilla extract
What You Do:
1.Pre-heat oven to 350F.
2. Use coconut oil, to grease a 9-inch square cake pan. Line it with parchment paper.
3. In a food processor, grind the almonds into a meal/flour texture.  Remove any large pieces.
4. In a large bowl, whisk the egg, and add the oat flour, cocoa powder, sea salt and baking soda. Whisk it all together and set aside.
5. In a medium saucepan, melt 1/2 cup of the chocolate chips or cacao nibs and the coconut oil over medium heat. When they are almost all completely melted, remove the pan from the heat and stir it until smooth.
6. Pour in the egg, sugar, almond milk and vanilla until combined.
7. Mix the chocolate mixture into the ground almond mixture.  Make sure there is no dry almond meal at the bottom of the bowl, and it is well combined.
8. If you would like, you can stir in the remaining chocolate chips.
9. Pour the batter into the prepared pan and place a piece of parchment paper on top.  Using your hands, press down on the parchment paper to make the brownie mixture even and spread over the entire pan.
10. Bake for 28-30 minutes. Let the brownies cool in the pan for an hour. Do not remove them until they are totally cooled off or they will be too crumbly to cut.  Slice into squares and enjoy.
Let me know what YOUR kids think!
Note:
If you would like to make this vegan, substitute the egg for 4 tsp ground flaxseed meal, mixed with 3 tbsp of water. Let it sit for a few minutes and then add it like the directions instruct for the egg.