Crispy Black Bean and Quinoa Burritos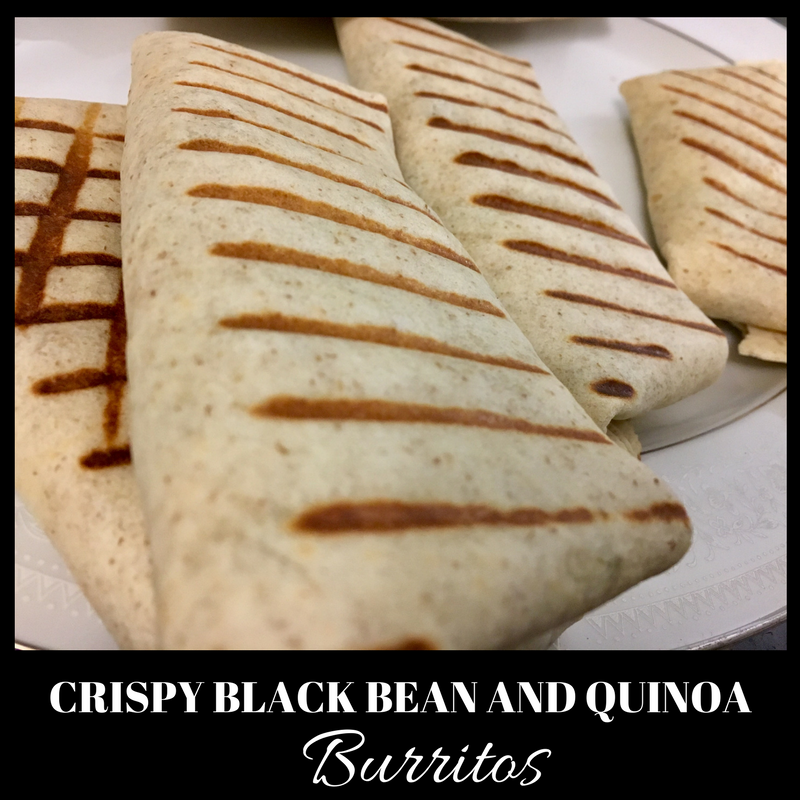 Looking for a really healthy, scrumptious lunch idea that you can prep in advance and that your kids will definitely love? Silly question, right?
We have made these at home more times than I can count. We were first introduced to them by a friend, so I am not even sure where the recipe originated from, but we have modified it slightly to suit our preferences. The cumin and cilantro give these burritos a certain 'je ne sais quoi', but you can easily replace them with seasonings you prefer.
We have made them using whole wheat tortillas, gluten free tortillas and even with this savoury crepe recipe before.
They are really delicious and filling and make an excellent lunch.
CRISPY BLACK BEAN AND QUINOA BURRITOS
What you need:
1 can black beans
1/2 can canned corn*
1/2 cup shredded mozarella cheese (omit if making this dairy free)
1 cup cooked quinoa
1/2 red pepper*
1/2 onion
1/4 cup cilantro, chopped
1 tbsp coconut oil
1 tsp grapeseed oil
1 tsp sea salt
1 tsp black pepper
1 tsp cumin
juice of half a lime
8 medium sized whole grain or gluten free tortillas
What you do:
Heat a large skillet to medium heat, add the bell peppers, onions, beans, corn, cilantro, coconut oil, juice of a lime, and spices. Saute for 2-4 minutes on high. Set aside.
To make the burritos, lay the tortilla flat on a plate or the counter, add 1/3 cup of the bean mixture, 2 tbsp quinoa, 2 tbsp mozarella. Be sure to leave 2-3 inches from the corners. Wrap burrito by folding over the edges. Continue for all 8 burritos.
One they are each wrapped, heat a large skillet or a panini press. Place the burritos on the skillet or panini press and heat for 1-2 minutes until they are golden and crispy on the outside.
Serve warm. To freeze wrap each one individually, and take them out to defrost and heat as required.
* To make these ShiftShape 10 DAY ONLINE CLEANSE compliant and nightshade free, replace corn and red pepper with other veggies of choice. I have made it with green peas and lentils in addition to the black beans.