Shift Quinoa Taboule Salad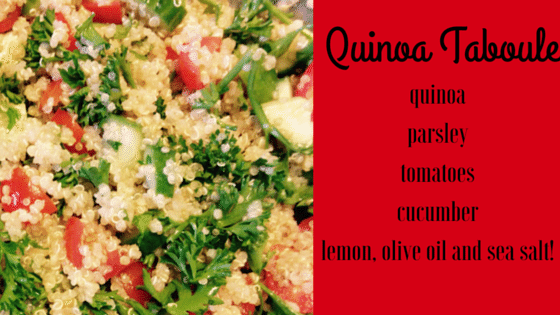 Parsley is a nutritional powerhouse with vitamins A, B, C and K and the minerals iron and potassium.  It's a natural diuretic, which helps to eliminate excess fluid without depleting the body of potassium. So it's great at reducing water retention (especially at certain times of the month!) and bloating.
Parsley aids in balancing blood sugar and helping with long-term weight management.
Parsley offers protection from a wide variety of diseases – including heart disease, diabetes, colon cancer and  asthma! Parsley is an excellent source of vitamin C, since it is a key nutrient involved in neutralizing the free radicals that play a key role in the development of these diseases.
So, when in doubt, throw some parsley on it! 
There are many reasons why this is one of my favourite ShiftShape 10 DAY CLEANSE recipes. The first reason is that it is insanely delicious.
It is also cleanse-friendly, as it is gluten-free, sugar free, dairy free and soy free.  Phew. The best reason though, is that it contains truly detoxifying parsley.  'Eat Your Greens' is a great mantra. Parsley personifies the reason why it became one in the first place.
What you need:
1 cup quinoa
¼ cup olive oil
½ tsp sea salt
¼ cup freshly squeezed lemon juice
1 cup fresh parsley, minced
3 medium sized tomatoes, diced
1 english cucumber, diced
2 bunches of green onions (optional)
What you do:
Cook quinoa per package directions. Allow to cool to room temperature and then fluff with a fork.
While the quinoa is cooling, combine olive oil, sea salt, lemon juice. Mix and set aside. Add parsley, cucumber, tomatoes and onion to bowl. Stir in quinoa. Add olive oil, sea salt and lemon juice and mix in.
Serves 8
Enjoy!!!